Shrimp Culture in Indonesia: Future Considerations and Potentials
April 2, 2017 11:16 am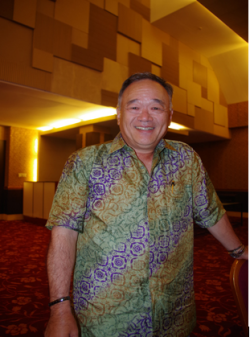 Indonesia is the country with highest global potential for warm water shrimp production. Perhaps, this is one of the focus point emphasized by Dr. Dean Akiyama in his guest lecture on Friday, November 25th 2016 titled Shrimp Culture in Indonesia: Future Consideration and Job Potential for Students. Been in shrimp business for about 30 years, Dr. Akiyama gladly share his take on the Indonesian industry of shrimp culture in the guest lecture held in ITB Central Library. In this joint event between undergraduate Microbiology and Bioengineering program, Dr. Akiyama took the participants to the world of shrimp culture in Indonesia, sharing the future considerations and potentials pertaining to the shrimp industry.
The lecture opens with one simple, yet mind-riddling question from Dr. Akiyama. "To you, all the students,", he said, "I'd like to ask what is the major constraint for commercial farming sustainability?". Many students give their opinions, but none satisfies Dr. Akiyama. "It's profitability of farmers. No money means no industry. More money means faster growth of industry as more people delve into the industry,", he explained. He then went ahead, giving insights on shrimp culture industry in Indonesia and introducing the basic foundations for commercial shrimp farming to the participants. In the span of one and a half hour, Dr. Akiyama explains about the considerations that a shrimp entrepreneur has to bear in mind. These considerations being the genetics and post-larvae production, aqua feed production, and reliable commercial research. On genetics and post-larvae production, Dr. Akiyama said that better standardization of post-larvae quality is required for consistency of farmer's success. In talk of aqua feed production, he told that there is need to develop local raw materials and decrease the dependency on imported raw materials. In the talk of reliable commercial research, Dr. Akiyama stated that most of published works nowadays are commercially unreliable, as they are published in "Publish or Perish" act. However, commercially reliable research is essential in hopes to improve technical efficiencies and reduce the cost of production. Therefore, there are some requirements to be met before a publication can be applied in commercial system.
The shrimp culture industry in Indonesia is indeed rather flourishing. In 2015, Indonesia produced around 700.000 MT shrimps, securing its spot at the 2nd place after China which produced roughly 1.500.000 MT. In terms of resource, Indonesia has the biggest potential to make it big, as abundant natural resources and vast sea provides all it takes for shrimp industry to bloom. Not only that, price of shrimp produced by Indonesia is globally competitive – "so it's a bright future ahead for shrimp culture industry of Indonesia", Dr. Akiyama proudly stated. In the end, Dr. Akiyama also encouraged the students by concluding that there are unlimited opportunities as the industry is constantly learning and adapting to new constraints.
[PAF]
Image source :
Trobos Aqua. 2014. Dean M Akiyama : Berjodoh Perudangan Tanah Air [online] http://www.trobos.com/detail-berita/2014/07/15/43/4874/dean-m-akiyama–berjodoh-perudangan-tanah-air accessed 2nd March 2017 6.18 PM